TEMPUS
The University of Banja Luka has already participated in 58 Tempus projects and seven more are in the process of realization.

TEMPUS - The Trans-European mobility scheme for university studies funds projects between the higher education sector in the EU and its 27 partner countries to facilitate university modernisation, mutual learning between regions and peoples and understanding between cultures. The Tempus partner regions are the Western Balkans, Eastern Europe and Central Asia, North Africa and the Middle East. Established in 1990 after the fall of the Berlin Wall.

The Tempus programme funds cooperation projects in the areas of curriculum development and innovation, teacher training, university management, and structural reforms in higher education. It puts special emphasis on the mobility of academic and administrative staff from higher education institutions, both from the EU and the partner countries.

The third phase of the Tempus programme expired on 31 December 2006. The European Commission continues to consider higher education as a priority for its co-operation activities with the countries surrounding the European Union. The Tempus programme, with its strong focus on institution-based university co-operation, will therefore be continued over the period 2007 to 2013.

The latest phase of the programme, Tempus IV, started in 2008 with a call for proposals lasting from January to April. The total budget for this call was around €51 million, with individual projects able to gaining funding of between €0.5 and €1.5 million. New projects under this call start at the end of 2008.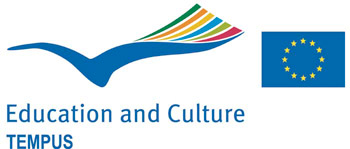 More information's you can find on the web site www.ec.europa.eu/tempus.

Tempus finances two types of actions:
Joint Projects are based on multilateral partnerships between higher education institutions in the EU and the partner countries. They can develop, modernise and disseminate new curricula, teaching methods or materials, boost a quality assurance culture, and modernise the management and governance of higher education institutions.
Structural Measures contribute to the development and reform of higher education institutions and systems in partner countries, to enhance their quality and relevance, and increase their convergence with EU developments.